TEDx Boca Raton Salon
Date:

June 6, 2019
Time:

5:30 pm - 7:30 pm
Location:
Show map
Boca Raton Innovation Campus
4920 Conference Way N
Boca Raton, FL 33431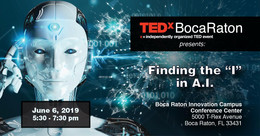 Whether you recognize it or not, Artificial Intelligence (AI) has become integrated into our daily lives. AI is revolutionizing the way companies engage with customers, compete with each other, and grow in the marketplace. But the line between computer software and AI systems is opaque. And can machines really demonstrate intelligence? Join us for a discussion with our expert panel on the fundamentals of Machine Learning (ML) across a variety of disciplines. Learn how AI is fueling powerful ways to help companies get closer to their customers and share knowledge in an informative, effective and personalized exchange.